….to live out our faith, active in love; to care, share, help, and serve those in need around us; to bear witness to our faith as a response to God's love by proclaiming God's Word through our deeds.
The following ministries are ways in which we respond to God's love by serving others:
the preparation of the noon meal at New Bethany Ministies (3rd Thursday of the month)
the preparation of the Sunday evening meal at Victory House (1st Sunday – every other month)
sponsorship of Easter baskets for weekend residents of the Children's Home of Easton
donation of health care items for the yearly Christmas ingathering
participation in the Bethlehem area CROP walk for hunger
donations of non-perishable foods for St. Matthew's Food Bank and Harvest Sunday in October
knitted mittens, scarves, and hats to clients of local social service agencies
prayer shawl ministry– knitted/crocheted shawls accompanied by prayer and meditations for individuals who need the blessing of God's presence and love during their illness, their sorrows, joys and celebrations.
Blood Drive – 3 times per year.
Special offerings to support local and global ministries
participation in the ELCA Malaria program (see video below)
participation in the ELCA World Hunger Appeal (see video below)
Please call the church office for additional information on any of our activities listed above.  Or, if you have a particular interest, please let us know.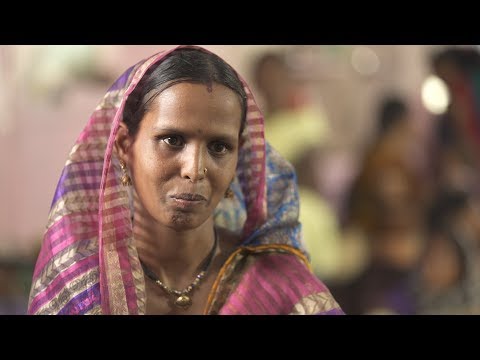 ELCA World Hunger Appeal
Calvary Food Pantry 
United Proclamation of the Gospel participates in the Calvary Food Pantry  at 111 Dewberry Ave., Bethlehem, PA 18017.
This is a very important ministry to persons who do not have enough to eat. Please call the church office if you can help at the pantry or donate some food.
God's Work, Our Hands
September 9 – Save the date!
This special Sunday is our opportunity to "share ministries and build relationships." The GWOH Team (God's Work. Our Hands Team) has planned an exciting day for all ages.
Following the 9:30 AM worship at St. Peter's, which will include a Blessing of the Hands, we will participate in various projects. As projects conclude, volunteers can enjoy a fellowship luncheon. These are some of the hands-on and fundraising projects we are planning:!
Assemble socks and underwear for the men and women of the Bethlehem shelter
hold a car wash for freewill donations (recipient TBD)
make greeting cards for homebound members
make tied blankets for Lutheran World Relief
collect winter coats (men's, women's, children's)
clean a cemetery
hold a bake sale (recipient TBD)
provide a fellowship luncheon for volunteers
If you have additional ideas or can apply for a Thrivent Action Team to provide seed money for projects, please contact LOIS RITCHIE at St. Peter's or LINDA MAULE at Light of Christ.

Opportunities to serve
See monthly calendar for dates.
Food Drive to Restock Emergency Pantry
Donations of nonperishable food items are needed to restock a small emergency food pantry, created last year through a Thrivent Action Team. It is housed at St. Peter and is available for members and non-members who find themselves with "too much month at the end of the money." Donations will be received throughout the month of August and may be put in marked containers at both Light of Christ and St. Peter.
Food items needed are: cans of tuna, chicken, and ham; peanut butter, chunky soups, rice, pasta, ramen noodles, breakfast cereal, canned vegetables, spaghetti sauce, canned or dried beans, canned fruits, fruit juice (100 % juice) and canned milk.
For I was hungry and you gave me something to eat, I was thirsty and you gave me something to drink… [Jesus said], Truly I tell you, whatever you did for one of the least of these brothers and sisters of mine, you did for me. Matt. 25:35 & 40
Blood Drive
.
CHRISTIAN SERVICE! EVERY WEDNESDAY
9:00 AM on Light of Christ Campus
Join us for a time of quilt making, blanket making, and various other ministries that assist not only our community of faith but the people who live among us in our communities! The Light of Christ Christian Service is filled with good will, wonderful fellowship, and an incredible love of sharing our abundance with others! We gather together each Wednesday morning in the Light of Christ Fellowship Hall, please come out and join us!